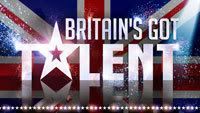 Last night was the grand finals of Britain's Got Talent. My bet, George Sampson won the prestigious talent show paving way to meet Prince Charles at the Royal Variety Show. Imagine, he never made it through the semifinals last year but with his fighting spirit and determination, he made it for the second time around this year.

He danced breakdancing the tune of the oldies, Singing In The Rain. And the shower effect was fabulous. He was so confident from the start until the end. And he is such a cute boy to be fair. His routines are clean and radiant moves. From the start, he was my favourite and then, when the top 2 was announced, I was in delighted.
The top 3 was called like Andrew Johnston, Signature and of course, George Sampson. Then, the 3rd placer was called and it was Andrew Johnston but he shed a lot of tears because he was expecting that he was the winner. Second place went to Signature dancing the Michael Jackson all time song, Billie Jean.
When his name was announce, he could not stop crying, sign of joy and delight. Then he performed again his winning piece and the all the audience had given him a standing ovation, so as the judges.
To you, George, best wishes and congratulations.

Watch the videos below:

winning performance of George Sampson

Signature, 2nd placer

controversial Andrew Johnston, 3rd placer

and the rests of the grand finalists can be seen below
Faryl Smith

Escala

Strike

Kate and Gin


related links:
Joro Livelihood
Joro, The New Beginning
The Whole World of Joro
Absolutely Joro
The Tale of a Bukidnon Lad